Give Your Partner An Extra Special Valentine's Day
Take the opportunity to show your partner how much you love them this Valentine's Day and give them the experience they deserve. Spend days immersed in the culture of the continent as you whisk your other half away to one of our incredible European destinations where every evening is filled with romance and bright city lights:
Venice
A gondola built for two
From its sprawling canals to its unique architecture, there's nowhere on Earth quite like Venice. Even as it slowly slips into the waters of the Venetian Lagoon, the city is still one of the most impressive destinations in all of Italy. Navigating the waterways of the ancient city in a Gondola is a must for any couple – and the perfect way to work up an appetite for one of the city's signature seafood dinners.
Click here to book your Venetian vacation today >
Prague
A bohemian romance classic
Considered one of the most beautiful cities in Europe, Prague dispenses with the hustle and bustle of Paris or Rome and instead offers a quiet and peaceful getaway for couples. Stroll around the city's spectacular bohemian architecture while sampling famous Czech beer. End the day with a visit to one of Prague's many Michelin star restaurants and you are sure to impress your partner. 
Click here to start your Prague holiday today >
Amsterdam
A wild weekend on the banks of the Amstel
Amsterdam is truly a city of two halves. In the day, you and your partner can expect a peaceful tour of the Dutch capital as you visit the spectacular Van Gogh Museum, awe-inspiring cathedrals and vast tulip gardens. Then as you move into the evening, watch the city turn wild as the red-light district comes alive and the tranquillity gives way to cheeky flirtation. Eat, drink and dance the night away as you sample the best of everything the city has to offer.
Click here to book your wicked weekend in Amsterdam today >
Edinburgh
A Scottish Snuggle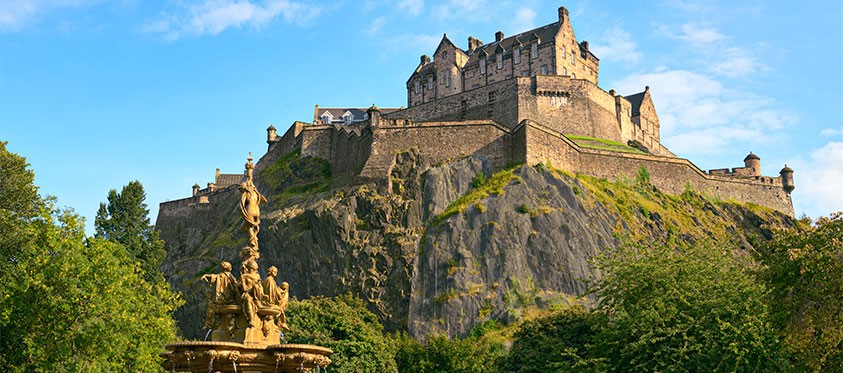 One of the most beautiful cities in the British Isles, Edinburgh is the perfect getaway for lovers on Valentine's Day. Wander the city and discover the romantic tales of Dunbar's Close or Portobello Beach before unwinding in one of the city's many spas and ending the day with a walk up to Edinburgh Castle to look out across the city while holding your beloved. Be sure to track down a great hotel room as the city has some of the best accommodation in Europe, four-poster beds and snuggly tartan are a must. 
Click here to plan an Edinburgh excursion today >
With so many great destinations from East Midlands Airport this Valentine's day, flights are booking up fast.