Jet Away This Winter
Whatever type of break you enjoy, if you need some sunshine during the long winter months, we have a holiday destination to suit you. It's as easy as EMA.
Canary Islands
In winter, the Canary Islands are a great choice for sunseekers, with average maximum temperatures a pleasant 21°C throughout, coupled with an average six hours of sunshine every day.
With four islands to choose from, the Canary Islands are a perfect choice for a winter getaway or an extended stay (you can stay for months at selected hotels). Golden beaches, scenic resorts, vibrant nightlife and family attractions mean there really is something for everyone.
Ryanair, Jet2 and TUI all offer direct flights to Lanzarote, Gran Canaria, Fuerteventura and Tenerife from East Midlands Airport. Book now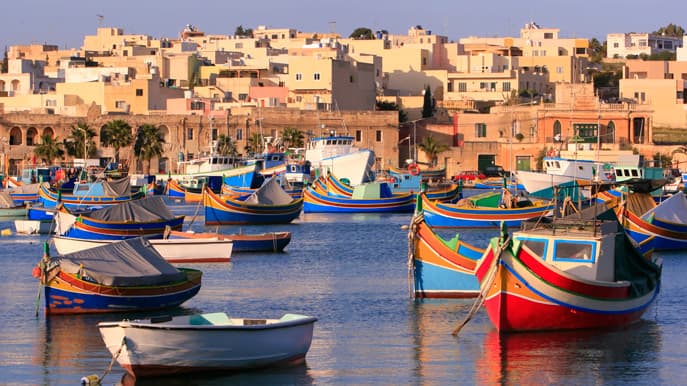 Malta
Discover the ancient island of Malta. With year-round sun, and plenty of upbeat resorts and three UNESCO sites – made up of ancient temples, Roman ruins and medieval cities – Malta is a totally unique place to visit. The capital, Valletta, was recently voted the sunniest city in the whole of Europe – making Malta the perfect destination for winter breaks.
Ryanair and Jet2 fly direct to Malta from East Midlands Airport. Book now
Turkey
The weather in Turkey through the winter months is cooler than summer, but you can still enjoy plenty of Mediterranean sunshine and pleasant days – great for exploring beyond the beach and taking in the historical sights, or bartering with the locals in one of the souks for that must-have gift.
Jet2 and TUI all offer direct flights to Antalya from East Midlands Airport. Book now
Cyprus
An enchanting island, Cyprus is a wonderful place to relax and explore on a winter break. Enjoy the great outdoors whether that be sun-soaked beaches, vineyards or stunning mountain scenery.
Cyprus is an island steeped in centuries of history, with influence from ancient Rome, Greece and Arabia, resulting in a unique culture and cuisine.
Jet2 and TUI offer direct flights to Paphos from East Midlands Airport. Book now
Spain and Portugal
With year-round sunshine and miles of sandy beaches to choose from, Spain and Portugal are perfect winter getaways. There are plenty of award-winning golf courses for the golfers amongst you, or try one of the many spa hotels if that's more to your taste.
During the cooler winter months is also a great time to explore: quaint whitewashed villages, medieval towns or stunning landscapes – you'll find it all here.
Ryanair, Jet2 and TUI offer flights to Alicante, Malaga and Faro direct from East Midlands Airport. Book now
Madeira
One of Europe's top island destinations, Madeira is a diverse place when it comes to holiday-making. Black sand beaches and the majestic Atlantic Ocean, wine tasting and botanical gardens make it a haven of natural beauty.
Hiking the levada irrigation channels is the top activity, with tens of thousands pulling on hiking boots to discover Madeira's secret interior.
In the middle of the Atlantic, the island of Madeira is a destination not to miss.
Ryanair and TUI offer direct flights to Funchal from East Midlands Airport. Book now
And if the coastal sunshine doesn't take your fancy, take a pick from a Short Break, Christmas Market or even visit Santa this winter.
Millington Travel are a multi-award-winning East Midlands based independent travel agency. They have been established since 1973 and have numerous branches across the region. Millington Travel pride themselves on their staff's knowledge and expertise, and they excel in arranging all types of package holiday as well as putting together tailor-made trips, city breaks, cruises, escorted tours, ski holidays and more.
Being an independent, Millington Travel can source flights, accommodation and all types of ground arrangements from any source, giving their customers the widest range of destinations, products and prices available - and all are ATOL protected.
Contact a Millington Travel expert today and start planning your perfect holiday from East Midlands Airport